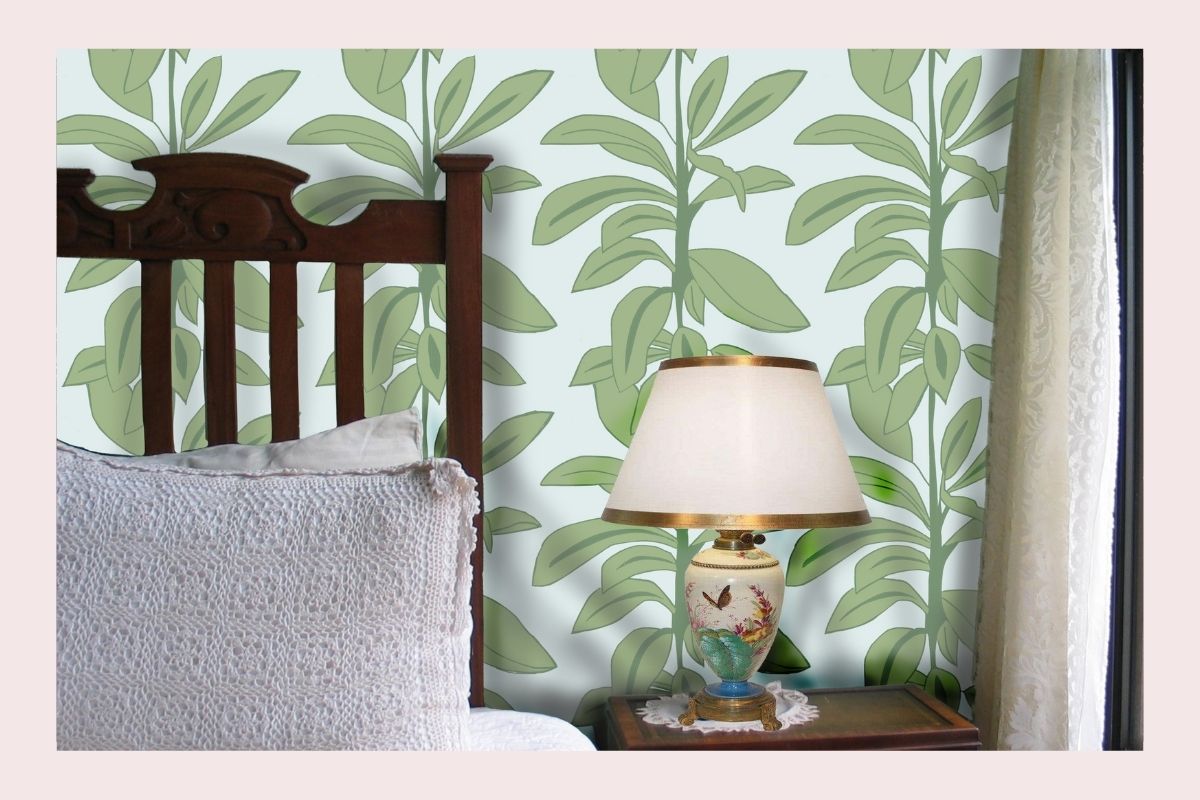 Botanical Wallpapers 
There are always flowers for those who want to see them" - Henri Matisse
I am continually looking to nature for wallpaper inspiration, and I have found enduring creative possibilities in the sky, the trees, and the flowers. The botanical in particular has always sparked my imagination and has influenced my printmaking and wallpaper practices from the start.
Many of the designs in my new collection, launching in Autumn 2020, are inspired by the British plants I encountered on my daily walks, or the potted plants I have in my home. As is the case for most people in the current climate, my daily walks and the immediate environment became even more important to me and reinforced my sense of home and family.
I became much more attuned to my surroundings and began practicing mindful walking - walking without a set goal or intention, and taking the time to really notice things. And, just like Matisse, I took advantage of this time I had to really see these plants and flowers, to study them and to celebrate them. 
My Daily Walk wallpaper is a direct reference & testament to these times. Among the plants that I encountered on my daily walks, and that feature on the wallpaper, are Dog Rose, Cow Parsley, and Wood Sorrel, but ultimately this design is about the collective - the idea of being greater than the sum of our parts, and being stronger together. It also stands as cartography and celebration of local flora. Daily Walk aims to create a mindful space and encourages being in the present moment and enjoying your locality.
Also in this new collection is Lily of the Valley. This wallpaper holds a special place in my heart. Lily of the Valley was my Nan Ivy's favourite flower, who my daughter was named after. It is a stunning flower and steeped in cultural symbolism. Otherwise known as May bells, it being the birth flower for the month of May, its scientific name Convallaria Majalis means 'valley' and 'belonging to Maia' in reference to the goddess Maia in Greek mythology, who was the goddess of the fields. The flower symbolises purity, youth, sincerity, and discretion, but most importantly it symbolises happiness, and in old Germanic tradition it is customary to give someone you love a bunch of Lily of the Valley flowers on May 1st. My wallpaper celebrates this purity and happiness, the small white flowers quietly standing their ground against the field of green, and channeling female strength and vitality.
I recently became well acquainted with a particular Rubber Plant during this extended period spent at home. I stared at it every day and drew it from many angles and in every kind of light. It's not timid - its thick, glossy leaves make it a great statement plant, and this is what I've channeled in my Rubber Plant wallpaper. I've used a bold, graphic style of drawing to allude to its striking presence, strength, and elegance. Its strength in the wild is extraordinary - the roots are sometimes used to make 'living root bridges', a type of simple suspension bridge made by tree-shaping in Northeast India and Indonesia. They are great indoor air-purifying plants, converting carbon dioxide into breathable oxygen that they release through their leaves - and here breathing some fresh air into your wallpaper too!
Bindweed is a mischievous and charming plant with a pleasant fragrance. Although it can be considered a pest at times, it can be easily trained and has many uses. The bindweed flower has a velvety, trumpet-like head that appears in shades of white, pink & lilac, as well as in brighter hues of blue, purple & yellow. As a gift, the bindweed flower is usually associated with the family. This resonated with me during the period of lockdown, when my world, like many other people's, shrunk, and my little family unit became my everything - even more so than before. For this reason, I was particularly drawn to the twining habits of Bindweed and association of attachment, and its fertility symbolism, as it grows in such abundance. My Bindweed wallpaper creates a calming, safe & connective space for the family and the home. 
Whilst working on my new collection, I looked not only to local plants and flowers but also to botanicals that have inspired me throughout my life and on my travels. Among them is the Red Cotton Tree and the Mango Tree. The Red Cotton Tree, or Bombax Ceiba, wallpaper was inspired by the Forgotten Masters: Indian Painting for the East India Company exhibition at The Wallace Collection, which explores the vivid artworks by Indian master painters, commissioned by East India Company officials in the late eighteenth & nineteenth centuries. The beauty of the natural world is a key element of the exhibition, and it led me to rediscover the importance and beauty of the Red Cotton Tree. I originally encountered this tall, elegant tree when traveling around India in 2007. It is native to tropical South & Southeast Asia, and almost every part of this large plant is used as medicine. In Vietnam, when red silk cotton trees bloom, it's also a signal for local farmers to plant sesame trees and time to put away warm blankets. 
My trip to India also inspired my Branch of Mango wallpaper. Luckily as an artist, I am forever documenting my experiences and so I have a vast array of drawings and photographs from my time in India that I continue to draw inspiration from. One of these botanical inspirations is the mango tree, the national fruit of India. Branch of a Mango wallpaper honors this beautiful and symbolic tree. In India, offering a basket of mangoes is seen as a gesture of friendship, and the tree and fruit are associated with happiness and love. The fruits themselves are delicious and rich in vitamins, minerals, and antioxidants, so what better symbol to bring into your home - to encourage love, happiness, and good health for all. 
Climbing Vine wallpaper is characteristic of my desire to bring the outside in and is one of my most popular wallpapers. When trying to overcome the uncertainty of the world it is best to look to nature, not only for calming aesthetics but for practical application. The vine Paederia Foetida depicted in this elegant wallpaper is considered to have great restorative powers in its leaves, roots, and flowers. Much like climbing vines in real life, the design has the ability to recede pleasantly into the background or to be bold and stand out as a feature wall.
Where the Wild Teasels Were is a design tribute to the thousands of teasels that were used in textiles processing before being replaced by metal brushes in the 20th Century. The production of this wallpaper echoes the teasel gig -  combining the hand made with the machine. The teasel plant provided a natural comb and rendered fabrics soft and fluffy. This machine, called a teasel gig, consisted of 3000 prickly teasels in an iron frame powered by electricity. The teasels were carefully sourced from Somerset and a teasel man would travel from mill to mill renewing the teasels in the gig. My wallpaper celebrates the hardworking teasel and its distinctive form.