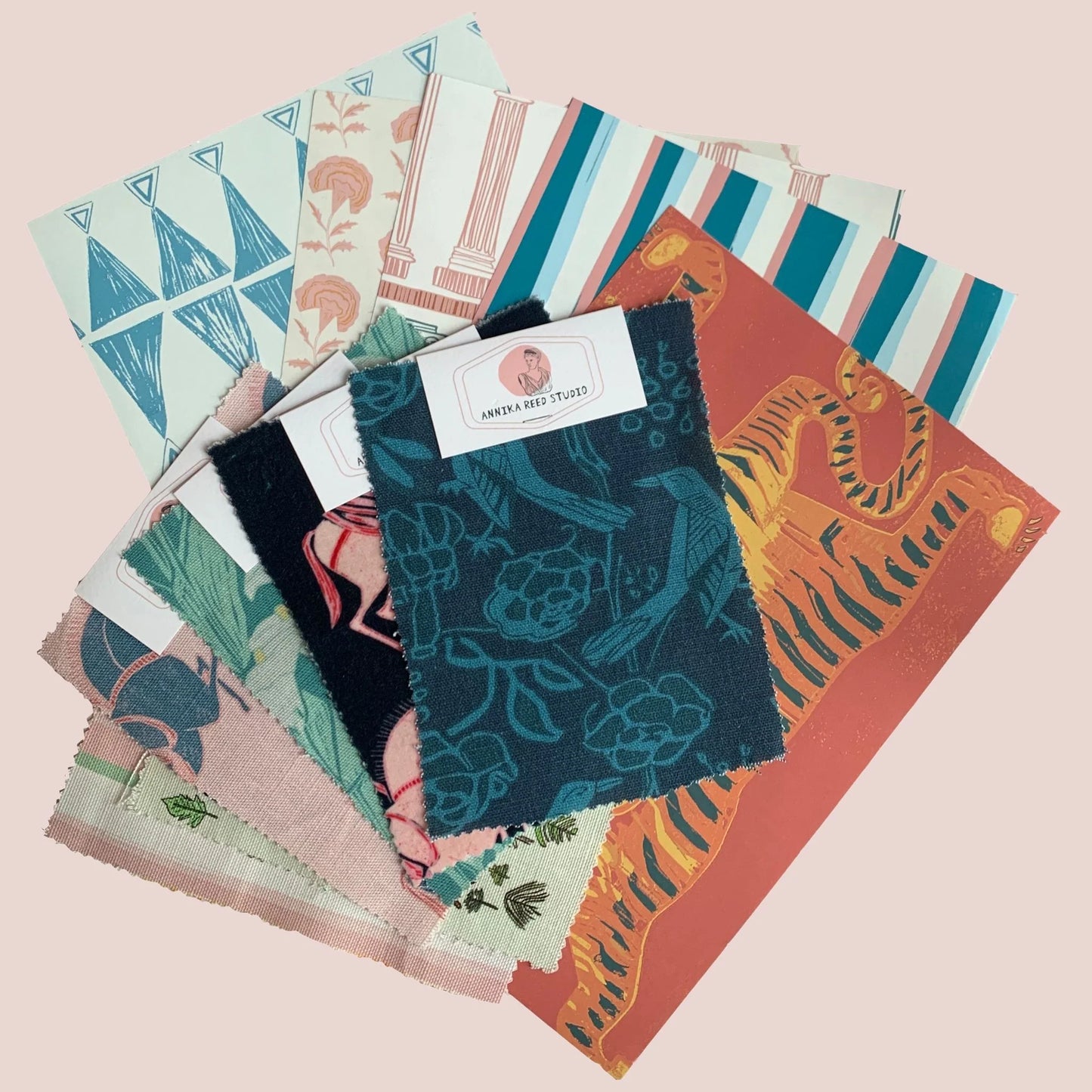 Fabric and Wallpaper Samples: What you need to know
So, you're on the hunt for the perfect wallpaper or fabric for your home? With so many options available, it's important to make sure that you have a chance to really see what each design looks like in your space, ordering a sample is so important as computer screens don't tell the full story in terms of texture, colour and quality of material. 
So, here are my 5 top tips that'll help you find your perfect match. 
1) Move the fabric and wallpaper samples around
Sounds obvious but the best way to test out wallpaper and fabric samples at home is by moving them around. To get an accurate idea of what it will look like, try placing the sample on different walls in the room. It will help you to see how the pattern and colour will look in different areas of the room and in different lighting. Hold it against any furniture that is staying in the room and how it looks at different times of the day. 
2) Pay attention to the lighting
When you're trying out different wallpaper and fabric samples at home, it's really important to consider the lighting in the room. The way a colour looks in the morning sunlight can be completely different from how it appears in the evening or afternoon with artificial light. Additionally, the natural lighting of a room depends on which direction it faces. To get the best idea of how the sample will look in the room, it's a good idea to view it around the time you'll be spending the most time there. It's also important to consider the lighting fixtures you'll be using, as different bulbs can have an impact on how the colours appear. For instance, cool white LED bulbs can make paint colours look chilly. Paying attention to the lighting in a room is key when deciding which wallpaper and fabric sample to go for. 
3) Twos a crowd 
When it comes to trying out your wallpaper and fabric samples at home, it's important to remember that two can be a crowd. The eye is much more effective at processing a single colour at a time, meaning the way a mix of colours is read will depend on which colour it is placed next to. It's helpful to place sample patches onto the wall and view them both individually and collectively as part of a palette, as this will give you a better idea of how the colours interact with one another. Experiment with different placements and combinations until you find the perfect balance between your favourite hues.
4) Go with your gut and have confidence
It is important to remember that when it comes to choosing the right colours and designs for your home décor, it pays to do your research. Testing out the various colours and patterns with samples can help you narrow down which colours and patterns will look best in your home. 
If you're still unsure and can't decide between a few options, don't worry. Trust your instincts and go with your gut feeling. After all, you know your style better than anyone else. Remember, "Go with your gut and have confidence." We're here to help you every step of the way, so don't hesitate to reach out if you need any assistance.
5) Go bespoke
If you love my patterns but not in keeping with your colour scheme or would like to change the scale of the design or base of the fabric  I can make a bespoke design just for you. It's so special when I get to work with clients to create something unique and meaningful, email hello@annikareed.com to find out more. 


Order your wallpaper or fabric samples today, dispatched within 1-2 days and delivered worldwide.