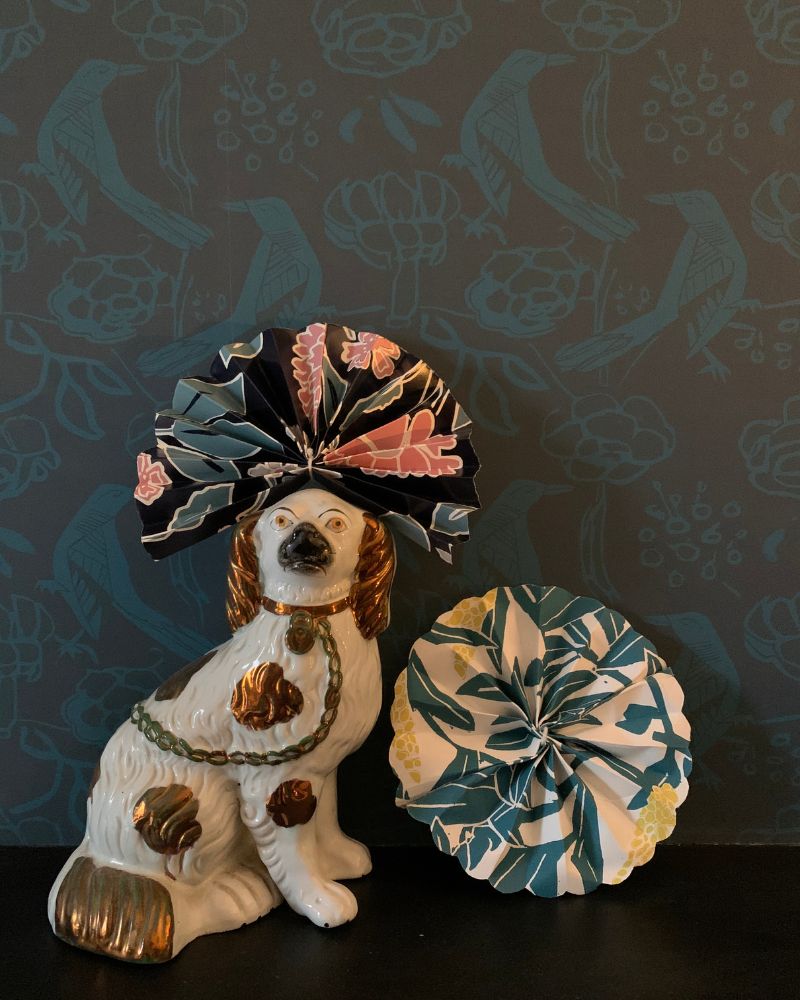 Six ways to use up leftover wallpaper
Wallpaper is an excellent way to add colour, texture, and pattern to a room. And with so many beautiful patterns and designs available, it's no wonder that wallpaper has become a popular choice for homeowners and decorators alike. However, one downside to wallpapering a room is that you may end up with leftover wallpaper scraps. Here are six ways to use up leftover wallpaper and add wonder to your home. 
Wall Art
One of the easiest ways to use up leftover wallpaper scraps is to frame them. 
Framing leftover wallpaper scraps is not only a practical way to use up excess material, but it can also be a creative and visually stunning addition to your home decor. Imagine a wall filled with a gallery of beautiful wallpaper pieces, each one unique in colour, texture, and pattern. 
Framing wallpaper scraps can also make a great gift for a friend or family member who loves home decor. You can customise the frames to match their style and preferences, and you can even add a personal touch by using wallpaper scraps that have sentimental value or that remind them of a particular place or time.
Cover Furniture
Another great way to use up leftover wallpaper scraps is to cover furniture. Whether it's a dresser, bookshelf, or even a side table, adding a layer of wallpaper can give it a fresh new look. The best part is that wallpaper can be applied to almost any surface, so you're only limited by your imagination. Consider using a bold pattern for a statement piece or a more subtle design for a more understated look.
Get Festive with Paper Chains
The holiday season is the perfect time to get creative with leftover wallpaper scraps. Instead of throwing them away, why not make some festive paper chains to hang on your mantel or decorate the walls? Simply cut your wallpaper into one-inch strips, roll them up and glue or tape them together to create a fun and unique decoration.
Folded paper fans are one of the simplist origami creations, yet their charm and elegance make them perfect for party favours, place settings or details for gift wrapping. Wallpaper is the perfect paper for them as they are thicker in weight and make for sturdy decorations. 
Line Shelves and Drawers
If you don't want to make a big statement with your leftover wallpaper, consider using it to line shelves and drawers instead. This is a great way to add a pop of colour or pattern to a space without overwhelming it. Plus, it's an easy and inexpensive way to update an old piece of furniture or give a plain bookshelf a new look.
Cover a Lampshade
Create a sense of continuity by pairing your walls with your lighting. Or transform a different room with your favourite pattern. Lighting can completely transform a space and with wallpaper, you can easily give an old lamp shade a makeover. There's a great selection of lighting kits available to buy, but if you have some leftover wallpaper, why not try creating your own unique lamp shade? It's an easy and creative way to update any room in your home. The result is a one-of-a-kind lampshade that perfectly complements your wallpapered walls.
Add a Pop of Colour to Your Kitchen Bin or Jar
Let's face it, rubbish bins aren't the most stylish item in your kitchen. But with some leftover wallpaper scraps and a little bit of creativity, you can easily transform your bin into a colourful focal point. Simply wrap the wallpaper around the bin or a mason jar to create a fun and eye-catching addition to your kitchen.
So, next time you find yourself with some leftover wallpaper, don't toss it away. Use these ideas to get creative and add some extra pattern to your home.
And if you're in need of some new wallpaper, check out our selection of beautiful patterns and designs to find the perfect fit for your space and add some wonder to your walls.