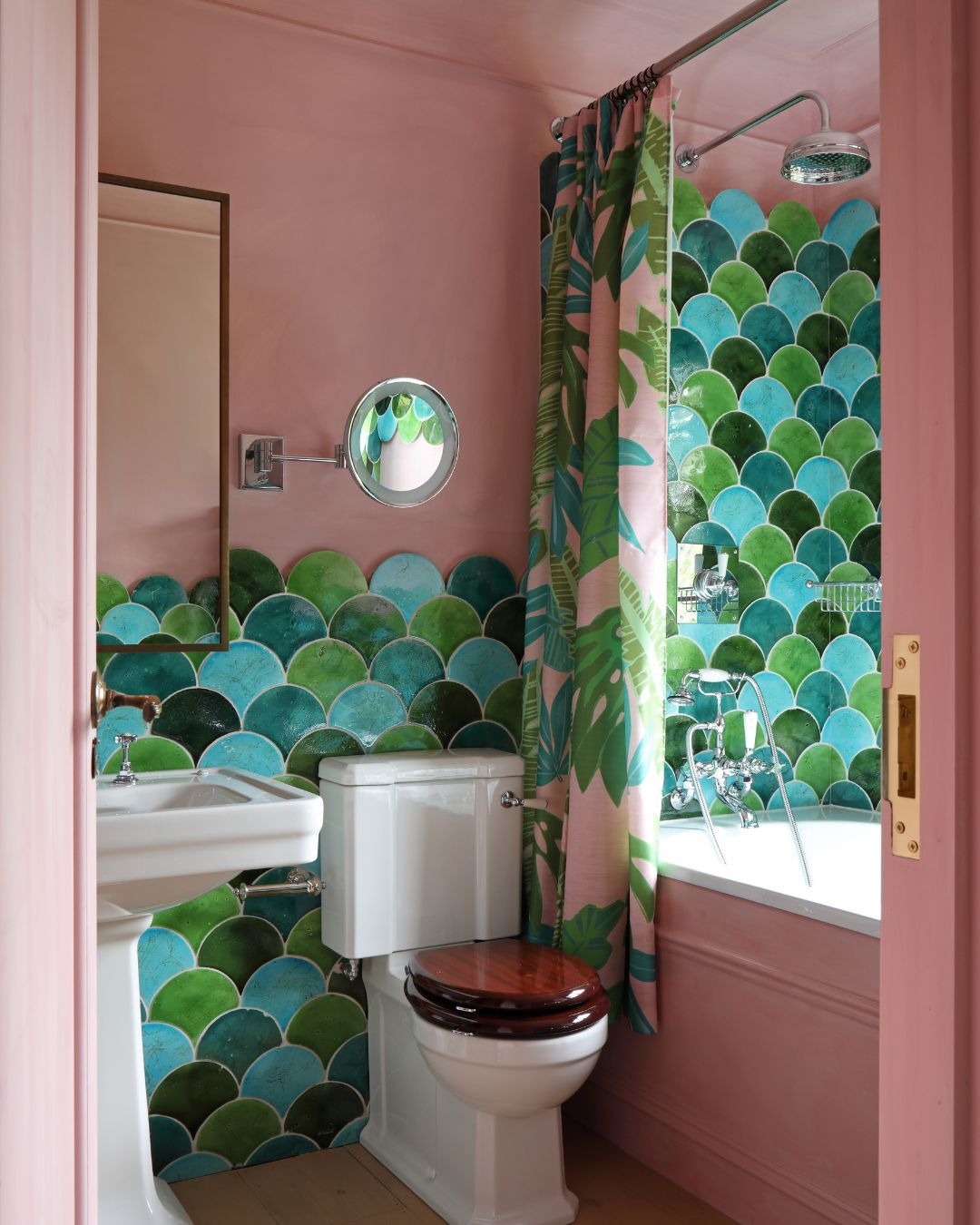 How to elevate your living space with bespoke Wallpaper and Fabric.
Elevating your space with custom wallpaper and fabric is a fantastic way to infuse your home with your unique style and personality. Here are different ways you can customise wallpaper and fabric.
1. A Palette of Possibilities - bespoke wallpaper and fabric.
If the existing colour options don't quite align with your vision, fear not! We're delighted to offer completely bespoke colourways to match your preferences. Whether you have a specific colour palette in mind or wish to coordinate the pattern with your favourite artwork or match your existing furniture, we can collaborate to craft something special.
For example, we worked with Robyn Donaldson to incorporate the colour of her front door, into the Pair of Dogs resulting in a welcoming and warm colourway unique to her home.
Another client desired a lighter and more playful design for her powder room, and we created a bespoke colorway of the Chattering of Choughs based on a painting she provided. 
2. Selecting the Perfect Foundation
Our bespoke wallpaper and fabric design services extend to selecting the ideal substrate for your project. We offer a wide range of options, from luxurious silks that exude sophistication to durable cotton that provides comfort. Whether you're envisioning a statement shower curtain or a textured grasscloth wall covering, we're here to guide you in choosing the perfect base for your project. Each substrate carries its unique qualities, ensuring that your design suits your intended use and aesthetics.
Interior Design by Ana Englehorn
3. Customising Your Scale
Not all spaces are created equal, and the scale of a design can profoundly influence the overall atmosphere of a room. We understand this, which is why we offer flexibility when it comes to the scale of our designs. You can opt for a large, striking pattern to make a bold statement, or a smaller, intricate design for a subtle touch. While some of our designs are available in two different repeat scales, we're more than happy to accommodate even further customisation. If you have a specific pattern in mind that you'd like to see in a different scale to, say, adorn your furniture or dolls house or fill a larger space, we can make it happen.
4. Complete personalisation
Your living space should tell a unique story, and we're here to help you craft that narrative. If you have a favorite object or want to create a specific theme, we can work together to create a bepsoke wallpaper and fabric that is uniquely yours.
For instance, we were given a mini Cooper as the inspiration for a little boy's bedroom and created a repeat pattern perfect for matching curtains.
In a world where mass-produced decor often dominates, bespoke wallpaper and fabric offer a breath of fresh air. Your home should reflect your individuality, and our bespoke design services ensure that your space is truly one-of-a-kind. Our aim is to bring warmth, playfulness, and clarity to your vision, making every step of the process a delightful journey get in touch to find out more.