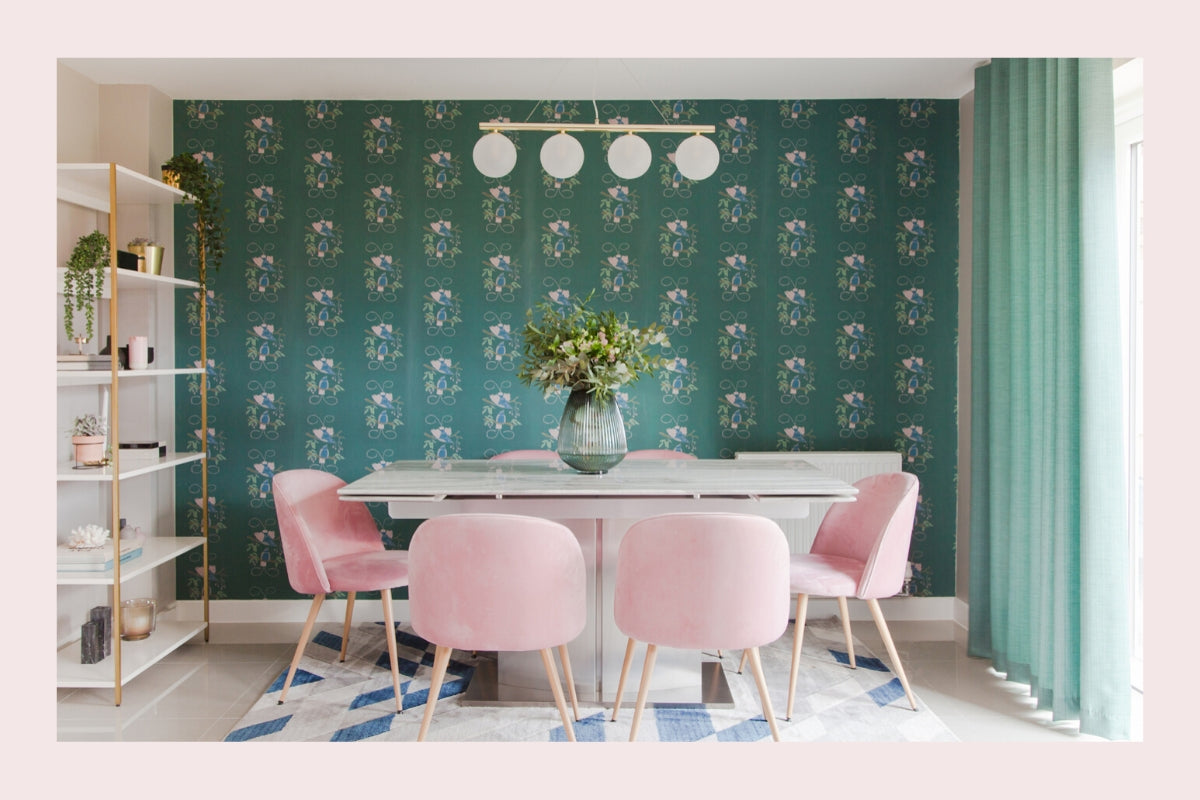 How to use wallpaper as design inspiration 
My name is Rukmini Patel and I am an Interior Designer, in this guest blog, I will be discussing how to use wallpaper as design inspiration and how I used the Legless Bird of Paradise as the starting point for a client's dining room. When designing for clients I am sometimes given free rein and asked to create a colourful and fun design. When that happens I draw inspiration from a piece of artwork, object or in this case wallpaper.  
I was really drawn to the colours of the Legless Birds of Paradise by Annika and used this as the starting point of the design. Often clients ask for unique pieces and want their home to feel special,  this is where a niche brand like Annika's and her wallpapers come into play. I'm going to talk a little bit about the design process and how to use wallpaper as design inspiration. 
Like with all designs I start the process with a mood board taking huge inspiration from colour and how they work best together. When using a single piece for inspiration, you want to draw out as many colours as possible to give a cohesive look. I've taken the teal, green and blue and created a scheme around these colours. 
In terms of the finishes, I feel these are also important and are specific to each individual. For my client, she wanted a luxurious finish such as marble and metallics gold/copper. I was particularly keen to use the pink from the birds in the scheme and luckily the client agreed to have pink chairs! Blush pink and teal are such a great colour combination as they can appeal to all genders. 
The end result is not too far off the mood board. The client loved the wallpaper and pink chair combination and I'm so glad she went ahead with it. The rug is the client's own and luckily has small doses of blue which work well with the wallpaper. If you are thinking of how to use wallpaper as a design inspiration here are a few tips: 
Take the main colour of the wallpaper (in this case teal) and find a contrasting colour (pink). Use the contrasting colour in a large item in the room, it could be a headboard, sofa or armchair. 

Use other colours found in the wallpaper and add them in small doses perhaps in the accessories or curtains.

Look at the feel of the wallpaper, does it feel formal or playful? You can use this as a way of setting the tone of the room. The dining room was next to the garden so the theme of the birds carried on into the garden which was a lovely connection, joining the outside in. 
Wallpaper can add interest and pattern to a room transforming the space. The way the room feels has completely changed as you can see from the before and after. 
When you add wallpaper to your room you make it unique and add your personality. You can add wallpaper to any room you want or even add it to furniture! 
As an interior designer, I love creating colourful, elegant and unique spaces. I work on residential homes new builds and renovation projects. If you'd like to start your interior journey I would love to have a chat with you to book your free consultation head to my website. 

I hope you enjoyed this post, you can find me on Instagram and join my community of like minded interior addicts in my private interiors Facebook group here.