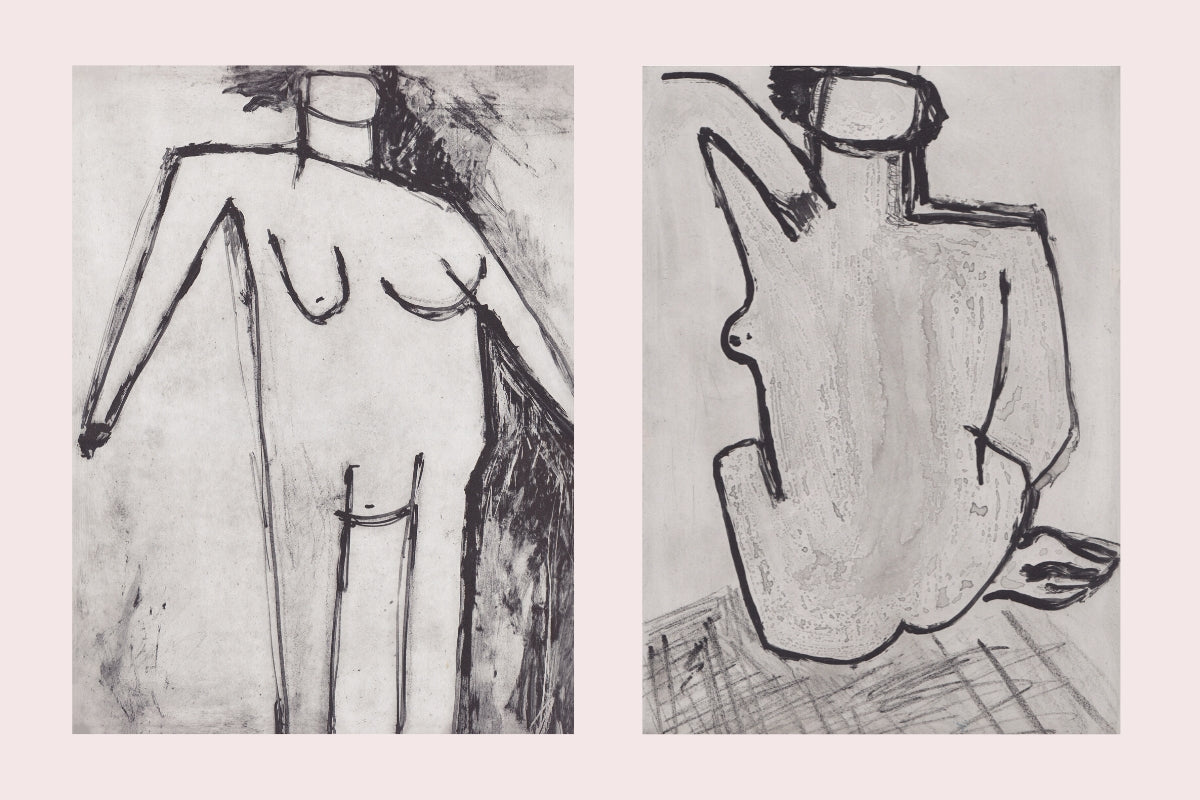 The Nudes & the Operating Table
If I set out to sculpt a standing man and it becomes a lying woman, I know I am making art
Operating Table is a collection of etching and studies I made after being in hospital a few years ago. The time in hospital changed my perception of the human body, specifically the female form. The vulnerability of the body on the operating table - at that moment reduced to its (questionable) functionality - made me consider what it meant to be naked vs nude, and the reduction of the body to its physiological functions.
Taking inspiration from Henry Moore's sculptures of women, and his enduring interest in Palaeolithic forms, I began to explore the depth of expression made possible through minimalist mark-making. Through the simplification of form, mark-making, and line, I found I was able to communicate my experience, whilst contemplating the simple beauty of the female figure. It is this beauty and the providing of alternative perspectives that I want to share with other people. I want art to be inclusive of everyone, whilst simultaneously creating a private moment of exclusivity with the viewer.
Whilst the nudes represent a personal experience of my own, the ambiguity of the figures intends to relate to everyone and anyone who sees them. The poses may be seen as vulnerable and submissive to one person, or as strong, rooted and knowing to another.  
The Nudes & Now
Why now? Drawing, mark-making and printing have always been my true loves and are integral parts of my wallpaper designing practice now. However my wallpaper production also combines digital techniques, and this has opened my mind to the idea of digitising my art prints and widening the accessibility of my art. So now, for the first time, I'm making my series of nude prints available to buy as digital giclée prints. 
What is a giclée print? Giclée in French means to splash or spray, and this is how the ink is printed onto the paper using a wide-format inkjet printer. It is the print of choice for artists when producing copies of their work as it offers the highest degree of accuracy, colour quality and fade resistance. The proliferation of artist giclée prints means that it's now easy to have high quality, affordable art in your home.
Why the nudes? We never tire of the nude, it has been around for as long as art itself, and it isn't going anywhere. No matter what a changing society throws at us, there will never be a more profound yet simple way to contemplate humanity and what it means to be human. The start of a new year, and more significantly the start of a new decade, feels like the right time to release my nudes into the world. They represent openness, acceptance, purification & resolution, and I hope they will bring a sense of simple pleasure into the minds and homes of many.
The Nudes & You
So why buy art prints for your home? There are so many reasons! Apart from creating a focal point for a room or wall, the right wall art can bring energy, serenity, contemplation and above all, pleasure into a space. You also do not need to wait until you've finished decorating a room before thinking about wall art, in fact, you should actively consider it from the start. It can help guide you through the minefield of interior design options that are out there, by giving you a theme and colour palette to refer to and respond to.
The ease of my nude series lies in its neutrality. The monochromatic palette and simple mark-making is a perfect aesthetic for interior walls as it won't clash with other colour schemes - only add definition & contrast - and it will create space when paired with busier patterns. And, as mentioned earlier, the subject matter itself is timeless so it's a great investment regardless of whether you're staying put for the foreseeable or likely to move house soon. The nudes can be added onto a wallpapered wall itself or used adjacently to offset a feature wall. They provide welcome 'interruptions' in a space and can be as quiet or as dominant as you like.
And, if after reading this you needed further reason to treat yourself or someone you know to one of my nudes - 10% of each Operating Table print sale will go to Cancer Research and Cervical Cancer Prevention. You can buy all the prints HERE