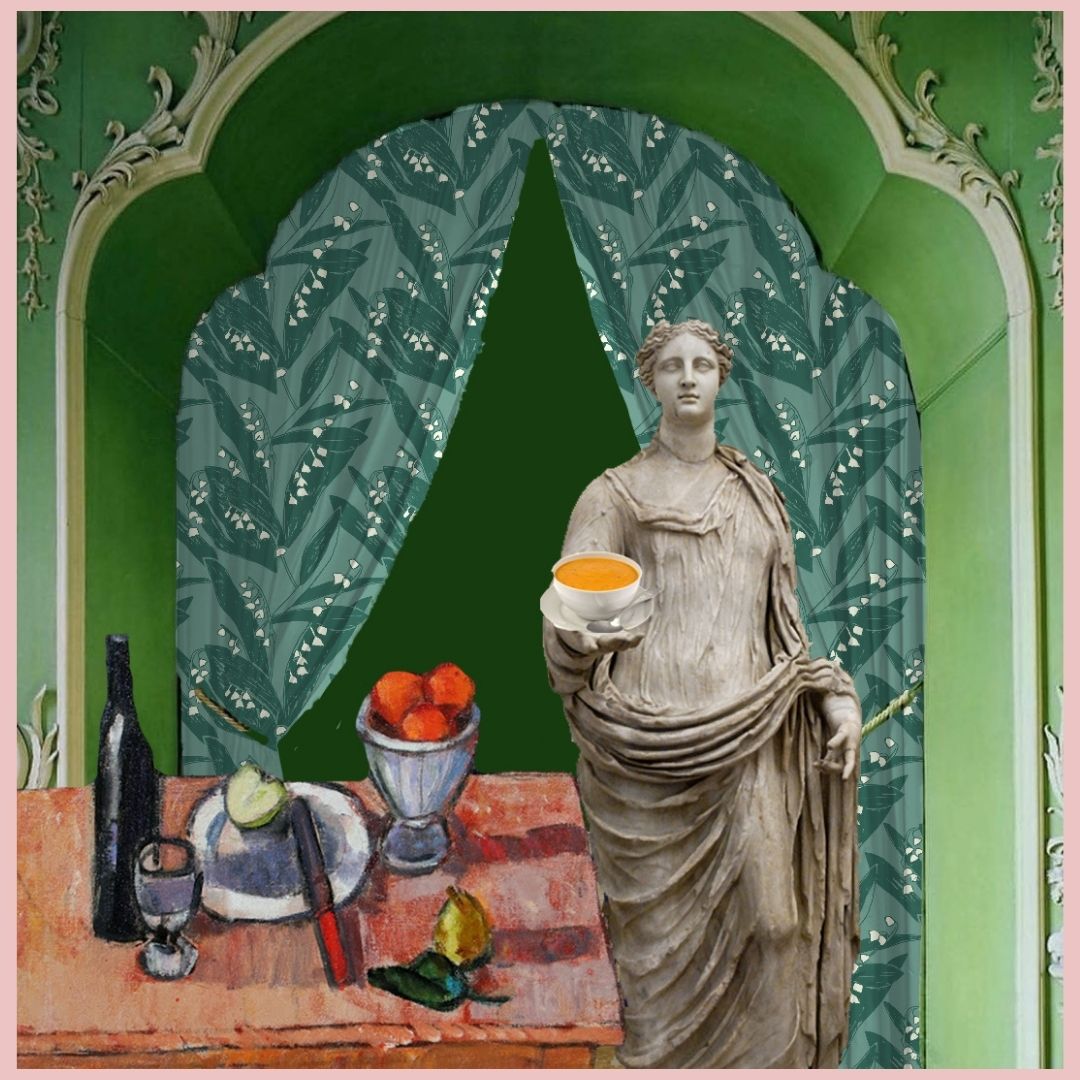 Just as the Greeks welcomed the goddesses into every aspect of their lives, you can welcome them into your home. 
Let these five goddesses help bring inspiration to your inbox and wonder to your walls. 
Goddess of Wisdom and the Arts.
With the invention of music and craft under her belt, Athena is the Goddess of wisdom and the Arts. With her guidance, I will be bringing you the latest news from my Studio. 
I have an exciting collaboration I've been working on since October, I'll l be able to share it with you soon. This week I was supposed to be going for a photo shoot, however, like most things at the moment it was cancelled. So I took over the house and set up a DIY studio, stay tuned to find out what I have been up too!
Of all goddesses, Demeter is the nurturer, the goddess of the harvest. The kitchen is a place to cook, but also a space for sharing meals with family and a place of entertainment. In Demeter's kitchen, there is always a promise of plenty. I'll be sharing time-worn recipes from our families kitchen so you can enjoy plenty in yours. 
RECIPE
My husband is a chef so I can guarantee you goodness each week. Soup is my favourite go-to lunch and this even Shaun Keaveny on BBC Radio 6 Music gave this soup a shout it! It's delicious.
Goddess of Hearth and Home. 
Goddess of Hearth and Home. Her home is a haven and refuge from all the cares and struggles of the outside world. Here at the heart of the house, pull the chairs close and kindle companionship. 
EXHIBITION
Meet me at the museum is a beautiful podcast by the Art Fund, this week I listened to Jessie Burton take her mum around one of my favourite places Charleston House while having a muse on life. Have a listen to immerse yourself in the wonder of the Bloomsbury group. Did your parents use to take you to country houses growing up? Mine did, but it's only now I appreciate it.  Where was your favourite? 
The goddess Aphrodite is associated with everything relating to the senses. She surrounds herself with beauty and finds beauty whatever she beholds. 
Aphrodite's bedroom is a cocoon, a place to luxuriate without guilt. Come to relax, rejuvenate, dream and play. 
Your home is your canvas
Craft a home that is eclectic, colourful and textured. I love to add a bit of fun to my walls and the Red Coat as featured in this months Elle magazine will bring a smile to your home. Where will you ride off too?
At the moment we can only dream of faraway lands, do you long for travel and adventure?  This incredible website was a breath of fresh air this week. Click on the link below and escape into someone else's view from around the world. Where will you end up?