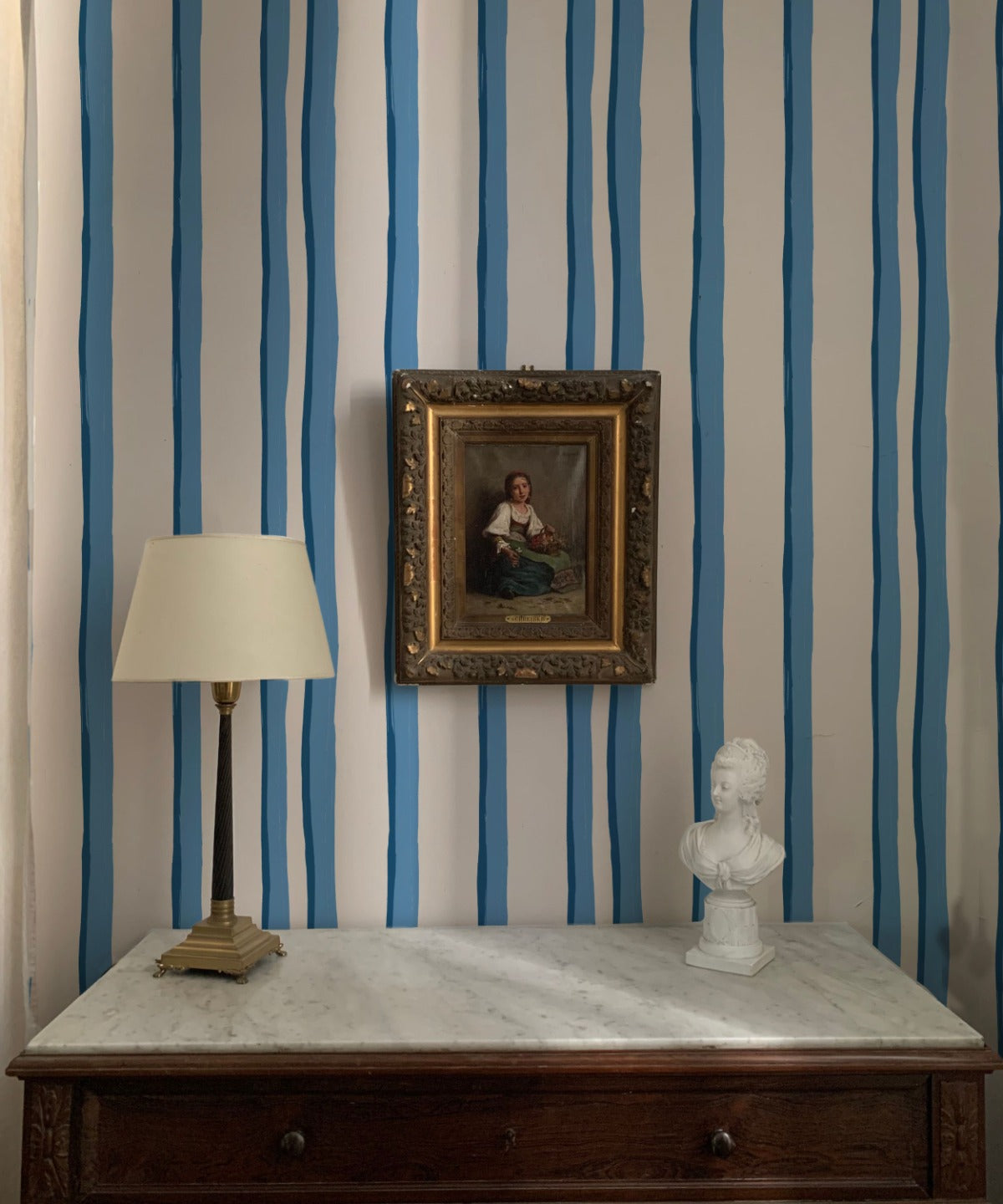 5 Ways to Style Striped Wallpaper 
Sophisticated and elegant, stripes are a timeless interior choice that will forever be on trend. I'll let you in on a secret. Striped wallpapers are a favourite of mine. They're so versatile and completely change the look of a room, having the ability to make it feel taller, wider and grander. Striped wallpapers bring so much to a space, whether they're used as a focal point, or as a neutral amongst more maximalist designs (the latter being my favourite). If you're unsure about how to enhance your interior with striped wallpaper, then read on for my top tips.
Make Your Room Appear Bigger 
Stripes bring both movement and structure into a space, and vertical designs can actually make your room appear larger. Using striped wallpapers creates the illusion of space and draws your eye towards the ceiling, making it appear higher. This makes striped wallpaper the perfect choice for smaller spaces! Top tip: if you want to make your room appear wider, opt for horizontal stripes.
2. Complement Maximalist Designs
I'm a huge fan of eclectic and daring interiors. Although striped wallpaper may be more than enough pattern for some, I often use striped wallpapers and fabrics as a way to compliment more maximalist designs. The trick to pattern clashing with stripes is to only pair them with one single print. This makes sure the space doesn't feel too overwhelming. And the best thing is, all patterns pair well with stripes, as long as you choose a design in complementing colours. They go particularly well with florals, and I love the new Somerset Stripes designs alongside the enchanting Bindweed Wallpaper in Pink Trumpet. 
3. Get Creative With Upcycling
Wallpaper doesn't have to be for walls. Upcycle unloved furniture with playful striped wallpaper and transform it into something extraordinary. I love this side table I upcycled with the Ohh I Do Like To Be Beside The Seaside Wallpaper. This print updates the classic stripe with its playful hand-drawn lines. Think Neapolitan ice cream meets English deckchair. The pastel piece now looks at home in my daughter's bedroom, bringing a charm to the space.    
4. Create a Cohesive Scheme
Double up on sophisticated stripes for a bold yet classic look. Matching your upholstery and drapery to your walls is an easy way to create a cohesive scheme that's timeless, making the striped design the focal point. On paper, it sounds like it would be too much, but the proof is in the pudding. How amazing does this interior look?! The Ohh I Do Like To Be Beside The Seaside design works harmoniously in both fabric and wallpaper, and the carefully curated colour palette of sugary pastels and deep green elevates the space. 
5. The Perfect Pattern for Bedrooms
Children's rooms should be playful, inspiring and full to the brim with imagination, so they can grow up with the belief that anything is possible. One of the best ways to bring your little one's space to life is with fun colour and pattern. Choosing to adorn their walls with striped wallpaper is an effective and timeless way to decorate any children's room. Because stripes are such a classic, investing in high-quality striped wallpaper is not only sustainable, but it's also kinder on your purse.
Stripes can also be sophisticated and a botanical take on the classic stripes is the answer. 
I hope this has given you some ideas on how to transform your space with striped wallpapers. You can shop the wallpapers mentioned, and a selection of other striped designs below.